From a review by The Guardian about the series All Man by artist Grayson Perry:
'As a lifelong sissy myself, I have never felt at ease amongst macho men …"
So begins the first part of Grayson Perry: All Man (Channel 4), the artist's three-part exploration of masculinity that opens with a trip to the north-east to talk things through with a group of mixed martial arts fighters.
Whatever he claims, Perry's great gift is to be at ease anywhere. An outsider to the art world by virtue of his class, an outsider to most other demographics by virtue of his transvestism, he is securely and unchangingly himself: a fixed point from which he can view all comers. Allied to a quick mind, compassionate spirit and unending curiosity, it makes him the perfect interviewer in any situation. So far, every documentary he has done has been one to treasure, and All Man is shaping up as no exception.
"I think every fighter has an untold story," says Andy, one of the most feared and brutal cagefighters. His is that he and his brother grew up in care. His brother was everything to him, and one day he killed himself. "And I've never, ever, ever told anyone that. I'm broken inside, I know I am. If it wasn't for fighting, I wouldn't be here."
Perry also met Thelma, mother of 30-year-old Daniel, who has already left. He died by his own hand 18 months ago. "The coroner said there had been 14 that month," said his mother, rage merging with grief. "Fourteen! It's an epidemic." She was right. Suicide is the biggest killer of men under 45. Eighty per cent of people who kill themselves are men. "Sometimes I don't think men even know they're sad," said Perry. "Really?" said Thelma, with surprise and a kind of awful hope in her voice.
Their stories played out against the backdrop of the annual Durham Miners' Gala, which celebrates the region's history and mourns its losses. Perry, with his customary deft touch, teased out the connections between an old model of masculinity – the clearcut role as breadwinner, the satisfaction of hard labour, the freedom to be "soft" when you wanted because you proved your strength and your worth inarguably, day after day, hewing your pride out of the coalface – and how it malfunctions in the modern world. Watching one of the martial arts fights ("It calms you down," says one contestant), Perry sees "hard labour reinvented as leisure spectacle" and "a need to search for the heroic narrative" that is currently falling short.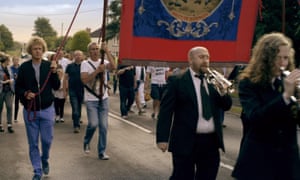 He distils his experiences into a tapestry banner based on those carried in the miners' gala and blessed in the cathedral, and makes one of his famous pots covered in images that caught his eye and imagination. One was of the tattoo of Daniel his friend had done ("Nobody wants to be seen as less of a man," his pal said, "but if he'd have said … I'd have been there in a heartbeat"), and other testimonies to wordless grief and despair were wreathed around. Thelma cried when she saw it, and thanked Perry for making it. We didn't see Daniel's dad, or Andy again, in the programme. Not for them, perhaps, even the small consolation of art.